As a baker, and someone with breasts, I though well,
one must keep a sense of humour in these things, and as a HUGE fan of the website cakewrecks, I pay homage to these creative lunatics that think these cakes are "looking good, babe".
EEEEEEUUUUW creeepy - and an unforgiveably sloppy icing job
These soft lovelies are made wth breast milk...really. (Sorry Doula Right Thing website)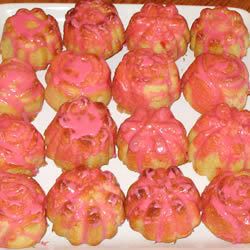 Sadly it gets worse - these were on a baking for breast cancer cookbook site. Wll, you know, they are pink.....and called Oma's pink whipping cream cakes.....[also known as the boobs talk amongst themselves after the operation at their self help group. Oy, those 18 guages?! Can you believe how young that doctor was? He coulda been my grandson...]
But really leave it to those clever food scientists who promise - wait for it - the F Cup...you gotta read the packaging - it's fantastic.
"The Japanese have done it again. A great tasting cake from your microwave in about two minutes that contains 11 essential vitamins and enhances your breasts!
Each F-cup Cake contains 50mg of the herbal breast enhancer Pueraria Mirifica. Pueraria Mirifica is the same safe and effective, natural breast-enhancing ingredient found in F-cup Cookies and B2UP Body Make Gum (Bust Up Gum). Learn more about Pueraria Mirifica »"